Cardi B's Nail Artist Did My Manicure for the Met Gala—And It Totally Upstaged My Dress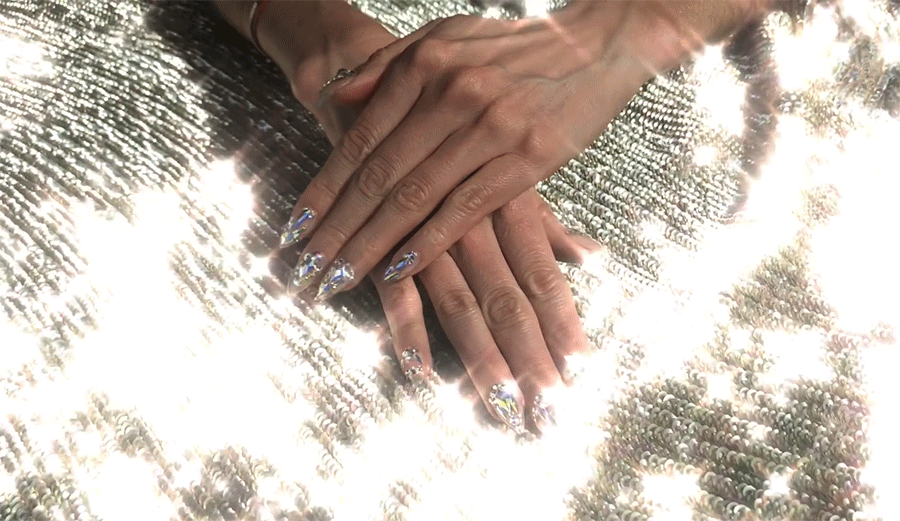 Across the street from Bryan Park, a stone's throw from the furthermost tip of Manhattan, where neighborhood preachers squawk about being saved, and hustlers make money playing three-card monte, a second-floor Bronx nail salon is swarming with women. The fumes of acrylic polish waft through an entryway that's marked with a $100-bill welcome mat. Just inside, salon owner Jenny Bui is calling for someone to turn down the reggaeton music that blasts from nearby speakers in the service of asking me the only question that matters: "So, are you getting tips?"
I've just arrived at the word-of-mouth destination after a 75-minute trek with a single goal in mind: to seek out the one-woman force behind Cardi B's over-the-top Swarovski nails before the 2018 Met Gala, which holds the religious theme of "Heavenly Bodies: Fashion and the Catholic Imagination."
The truth is, I'm more of a buffed-and-bare kind of person. But here, amid a VIP room of clients that include three of Bui's five children—21-year-old Branda, 11-year-old Cianna, and 9-year old Caycay, who pitch hits at the front desk—saying you want buffed and bare is unthinkable. Plus, I need something to go with my Met ensemble—a fairy-tale feathered frock with an up-to-there slit by Sonia Rykiel. Statement earrings just won't do.
By all accounts, Bui is just the person for the job. For the better part of the last decade, she has been blinging out the neighborhood clientele, first in Harlem, now in the Bronx, with her signature freehand sculptural nail art. After some negotiating, and much commentary from the peanut gallery ("Ew!" exclaims Caycay, short for cayenne pepper, when asked if she likes the long bedazzled tips her mother is famous for), we settle on a game plan: dramatic but with a refined red carpet twist. What follows is an hour's worth of sanding and shaping; stiletto (extremely pointy) is the most natural silhouette one can get, she explains, as she files and trims my nails down to a stunning 1.5-inch set—the shortest she is willing to go. "Cardi's nails are three more inches long," she says. "After two days, you're going to love them."
When Cardi pledged her loyalty five years ago, recalls Bui as she points to a black-and-white etching of the duo on the wall, business started booming. But back when they first met, "Cardi was in sweatpants and a sweatshirt," says Bui of her encounter with the star in the making, then a dancer at the strip club Sioux's, now a chart-topping rapper with a number-one debut album and 23.6 million followers on Instagram.
Bui's own story is no less remarkable. Born in Cambodia, she fled the Khmer Rouge regime in the late '70s for Thailand, and then Vietnam, before finally reaching Canada as a teenager. She became fluent in French, just one of seven languages she can now speak, she says proudly, and quickly dedicated herself to learning. In the '90s, Bui came to New York City for cosmetology school. "Back then, people were into nail art—but not Swarovski," says Bui, who notes that her trademark brand of bling is shinier, because of how she carefully places the gel around the rocks rather than on top, which allows the gems to maintain their brilliance.
By now, nearly two hours have passed. After a lightening-fast application of acrylic powder, "most people take up to 10 minutes for each nail," says Bui, and a glaze of clear gel, I go out and pay the meter—which is really hard, given my lack of dexterity with razor-sharp nails. After I return, and Bui's had a good laugh, it's time for crystals.
With a wax pencil, Bui picks at the paper sleeve full of 3-D stones—hexagons, circles, ovals—and begins to arrange them along my shiny see-through canvases. With no direction from me, save for the mention of the Met Ball's theme, she builds out unique designs that resemble butterflies, bouquets of flowers, swords, and a cross to reflect the upcoming celestial event.
Soon, the holographic gems start to shimmer, projecting small prisms of light along the wall as the sun hits them. I slip out, my manicured tips providing a newfound confidence. Now, on the morning of the Met and zipped into my floor-length dress, its colorful embellishments along the décolletage offering an extra hint of reflective sparkle to my gala-worthy manicure, I finally feel ready for fashion's biggest night out. The best news? Unlike Cinderella, these crystal accessories promise to last well past midnight.